Tinton Falls' David Goldman among parents who attended child abduction bill vote
Tinton Falls case spurred action
Written by Stephanie Loder, APP.com
WASHINGTON — David Goldman of Tinton Falls was among the parents of American children abducted and wrongfully held at overseas locations who came to Washington Thursday to watch and listen as child abduction and prevention legislation was unanimously approved by the Foreign Affairs Committee.
House of Representatives bill 3212, the Sean and David Goldman International Child Abduction Prevention and Return Act of 2013, was written by U.S. Rep. Chris Smith, R-N.J., chairman of the House congressional panel that oversees human rights.
Smith's bill would order the State Department to make an annual report on the status of children taken from the U.S. and whether countries are meeting their obligations to return them. It also would have to designate officials to help parents and notify Congressional representatives. It also says if the country where the child has been taken refuses to cooperate, the president must take steps such as denying future state visits or cultural and scientific exchanges or cutting various forms of U.S. aid.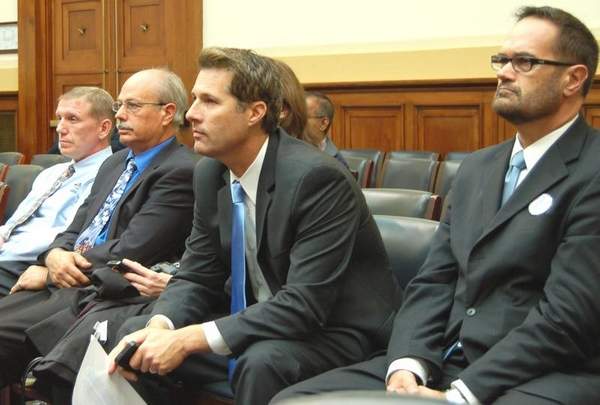 Parents such as Goldman of Tinton Falls, whose son was returned only after a five-year battle with Brazilian courts, support the legislation. Goldman's son Sean was taken to Brazil by his Brazilian mother, Bruna Bianchi, for a two-week vacation in 2004, but she refused to return to the United States, and later filed for divorce from David Goldman. She remarried, but died in 2008. Her family fought to keep Sean in Brazil. Eventually, after work by Smith and the State Department, Sean was returned to his father in 2009.
"It was David Goldman's unrelenting effort to bring his son, Sean, home from Brazil that first alerted me to the epidemic of international parental child abduction in this country," said Smith, who has traveled to Brazil and Japan in efforts to assist left-behind parents. "This bill enjoys strong bipartisan support — almost every member of the House of Representatives has constituents affected by the tragedy of international parental child abduction."
David Feimster, of Jackson, who worked with his daughter and Smith's office in 2011 to bring his grandchildren back from Tunisia to the United States, said he hopes his case gives hope to other left-behind parents who haven't been as fortunate.
"We have our children, but many others don't," Feimster said. "That's why I came to Washington today, to support the other families. Some day, some other families' children will be taken away. It's extremely difficult for anyone to go through. No parent or grandparent should have to go through this. This bill is definitely what we need to do. It gives parents one more piece to the puzzle."
According to the State Department, there were over 4,800 international abduction cases involving more than 7,000 American children between 2008 and 2012.
##