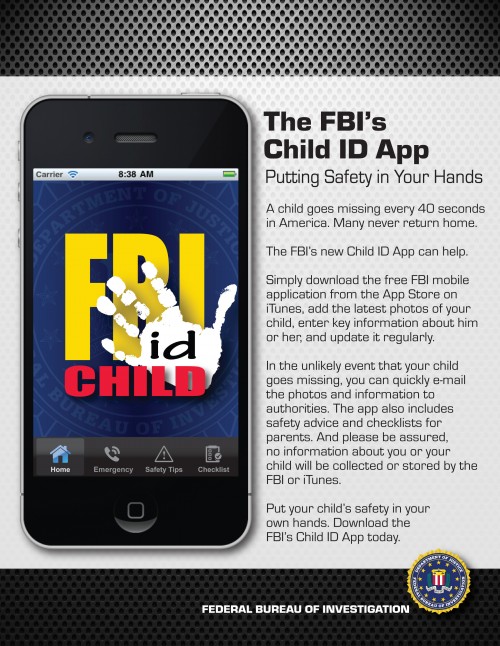 The FBI has released an App for the iPhone and iPad which enables the user to immediately contact the local police via 911 and more importantly the National Center for Missing and Exploited Children should your child go missing.
"You're shopping at the mall with your children when one of them suddenly disappears. A quick search of the nearby area is unsuccessful. What do you do?"
"…provides a convenient place to electronically store photos and vital information about your children so that it's literally right at hand if you need it. You can show the pictures and provide physical identifiers such as height and weight to security or police officers on the spot. Using a special tab on the app, you can also quickly and easily e-mail the information to authorities with a few clicks. "
One of it's best features is the ability to directly call the National Center for Missing & Exploited Children (NCMEC).
Based on accounts of child abductions reported to the Bring Sean Home Foundation, local police too often are reluctant or even refuse to immediately contact NCMEC. The App is free and is available through the iTunes Store (Apps Store).
More details and images at: http://www.fbi.gov/news/stories/2011/august/child_080511/child_080511