Back From Brazil,
Seeking an Ordinary Life for a Son
By KAREN DeMASTERS
December 30, 2009
RED BANK, N.J. — David Goldman's holiday wish for his son is a simple one: that he be allowed to be just another New Jersey 9-year-old.
Mr. Goldman appeared at his lawyer's office here on Tuesday for his first news conference since he and his son, Sean, returned five days earlier from Brazil, where Mr. Goldman won an international custody battle for the boy.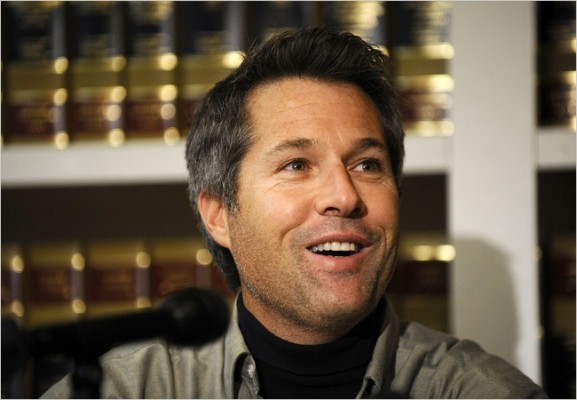 At times choking back tears, Mr. Goldman said his son had moved back with him into the house in nearby Tinton Falls where he lived before he was taken to Brazil by his mother, Bruna Bianchi, who died in childbirth last year.
The five-year legal battle, Mr. Goldman said, has left his son afraid of cameras and fearful of being left alone. Still, the father said he had been amazed at how seamless Sean's transition to living in the United States had been so far. The boy speaks English, as he did during the first four years of his life, and he attended an English-language school for two years in Brazil.
"He may have an 'old soul' because of what he has been through, but mostly he is just a kid and wants to live in the now and have fun," Mr. Goldman said. "He is playing with his cousins right now. He wants to go fishing, although I keep telling him how cold it is outside."
Mr. Goldman said Sean remembered parts of the house, including a balcony railing he used to bite. Neighbors decorated the house, and there were presents, which the boy ripped into like any 9-year-old, Mr. Goldman said.
Sean will be tested to determine his grade level and whether he needs any special tutoring before he enters public school in the near future, his father said.
Mr. Goldman thanked the news media for keeping attention on his custody fight, which continued after his ex-wife's death when her parents kept the child in Brazil.
A lawyer for Ms. Bianchi's family said they would fight to regain custody, and they asked the Supreme Court of Brazil to let the boy make his wishes known in court, The Associated Press reported Tuesday. The court initially denied the request, but it has not issued a final ruling and will not reconvene until February.
Mr. Goldman said Sean had talked to his relatives in Brazil twice and sent them text messages once since leaving, including on Christmas. The father said he would not be averse to further contact. The relatives have not filed for visitation privileges, said Mr. Goldman's lawyer, Patricia E. Apy.
Before returning to New Jersey, father and son stayed briefly with relatives in Orlando, Fla. Mr. Goldman said that in the custody fight he had run up legal and other bills that could approach $500,000.
Representative Christopher H. Smith of New Jersey, who helped Mr. Goldman get his son back, has introduced legislation to place a time limit on such court battles and to help with legal costs.
On Tuesday, Mr. Goldman and his lawyer asked that the public not forget the many other families in similar struggles, including a New Jersey family fighting for the return of two children from Japan and 65 other families trying to recover children from Brazil.
Copyright © 2009 – 2011, The New York Times Company