Judge Michael A. Guadagno, Superior Court of NJ
Decision dismissing lawsuit by Brazilian grandparents, Raimundo and Silvana Ribeiro for unconditional visitation in the United States
17 February 2011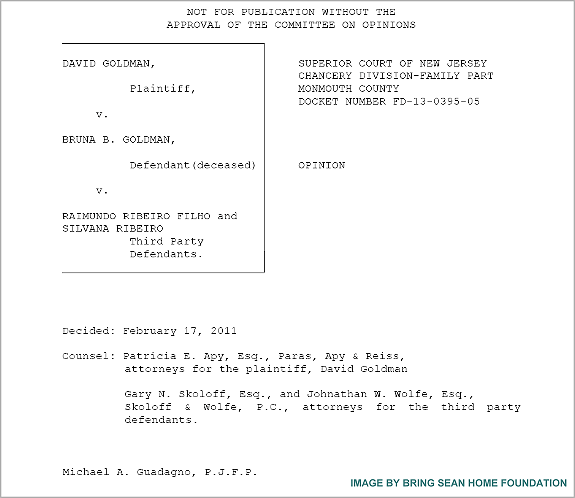 Full Original Document

Highlights from the Opinion
Page 2: Silvana Bianchi Ribeirio and Raimundo Ribeiro Filho, the maternal grandparents of Sean Goldman, have filed a complaint seeking visitation with their grandson pursuant to the Grandparent Visitation Statute (GVS), N.J.S.A. 9:2-7.1. Sean's father, David Goldman, has agreed to allow visitation under certain conditions but the grandparents have rejected these conditions and seek to compel visitation over David's objection. For the reasons that follow, the grandparents' complaint is dismissed.
Pages 9-10: On July 5, 2005, David moved to hold the defendants in contempt of the August 26, 2004 and January 21, 2005 orders and requested that a default be entered if Sean was not returned. On August 19, 2005, Judge Kapalko entered an order finding Bruna in contempt of the August 26, 2004 and January 21, 2005 orders and further ordered that if Sean was not returned within thirty days he would dismiss her answer and counterclaim and enter default. He also ordered economic sanctions against Bruna of $1,000 per week pending Sean's return. He dismissed Bruna's affirmative defenses under the Hague Convention for failure to state a claim. As to the grandparents, he ordered a plenary hearing which was adjourned twice to allow the parties to attempt to resolve the issue.
Page 11: In January 2005, Bruna and Sean moved in with Bruna's Brazilian paramour, João Paulo Lins e Silva. In documents filed with the Brazilian court, Lins e Silva indicated that his relationship with Bruna began six months before they moved in together, which means that Bruna began dating him shortly after her arrival in Brazil with Sean in June 2004. Bruna filed for divorce from David on July 25, 2006 and on July 31, 2007, obtained a Brazilian divorce from David. David was not served with either the complaint for divorce or the final order. Shortly after her divorce from David, Bruna married Lins e Silva.
Page 12: On August 22, 2008, Bruna died during childbirth. David was not told of Bruna's passing and only learned of her death through a newspaper account. Immediately after Bruna's death, Lins e Silva, a prominent Brazilian attorney, filed for custody of Sean falsely claiming that the child had been "abandoned." Apparently oblivious to the fact that Sean's biological father was not only alive but seeking custody of him in that very court, the family court in Rio de Janeiro granted custody of Sean to Lins e Silva on August 28, 2008.
Page 13 footnote: Comity cannot be afforded to the rulings of the Brazilian family court that first awarded custody of Sean to Bruna and then to Lins e Silva, as the orders deliberately disregarded the laws of New Jersey and were contrary to the clear terms of the Hague Convention. See Innes v. Carrascosa, 391 N.J. Super. 453, 490 (App.Div. 2007). However, Judge Pinto's order respects and reinforces the public policy of New Jersey with regard to parental rights and is therefore entitled to recognition by this court.
Page 14: Judge Pinto also found that, even under Brazilian law, Sean's rightful domicile after the death of his mother was with David… Judge Pinto found that the "illicit detention" and refusal to return Sean to David after Bruna's death violated the Hague Convention. He flatly rejected the defendant's contention that David abandoned Sean.
Pages 17-18: More importantly, for this court's analysis, Judge Pinto found that there was an "urgent need to order the immediate return of the child to the United States" because the court-appointed experts had "clearly and convincingly" demonstrated that "Sean has been subjected to a pernicious process of parental alienation." He found that Sean had suffered "psychological damage" that was related to "his stay here in Brazil" and that a return to the United States was necessary to limit that damage to Sean which would continue if he remained in "the possession and custody of the defendant…[and] the other maternal relatives."
Page 21: When this court learned that David was not flatly opposing visitation but merely seeking to impose conditions for the protection of Sean, a conference was held and it was suggested that the parties attempt to resolve this matter without further litigation. During September and November 2010, the parties exchanged correspondence but on November 30, 2010, counsel for plaintiff informed the court that, as a result of the Ribeiros' unwillingness to terminate litigation in Brazil, they were withdrawing the offer and the court would have to decide the matter.
Page 21: Before discussing the merits of the grandparents' application, the court is prompted sua sponte to determine whether the petitioners appear before this court with clean hands. The clean hands doctrine is "an equitable principle which requires a denial of relief to a party who is himself guilty of inequitable conduct in reference to the matter in controversy."
Page 22: If the grandparents have disregarded orders of this court or acted in a fashion that constitutes contempt for its authority in this matter, the maxim might compel the dismissal of their complaint without adjudication on the merits.
Page 22: In her certification, Silvana maintains that after she and Raimundo learned of Bruna's plan not to return to the United States with Sean in June 2004, she and her husband "encouraged [Bruna] to come back to New Jersey to work out her differences with David." There is not a flyspeck of credible evidence in this case to support her statement.
Page 23: Simply put, the Ribeiros' claim that they opposed Bruna's decision to remain in Brazil with Sean lacks any semblance of credibility. They fully supported and more importantly, completely financed the long and costly legal battles in both countries to keep Sean in Brazil even after Bruna's death.
Page 24: Even after Sean was returned to David, the grandparents continued an unrelenting barrage of litigation in the Brazilian courts, which continues to this day, all seeking Sean's return.
Page 24: In addition, the Ribeiros ignored numerous lawful orders of this court with impunity… After they were ordered to return Sean, their actions in supporting and financing Bruna's and then their own efforts to keep Sean in Brazil not only violated the New Jersey orders but displayed a contempt for this court's authority that is both flagrant and undeniable.
Page 24: The contemptuous actions of the grandparents do not automatically disqualify them from seeking relief in the court whose orders they defied. While it is not typical for a miscreant to have the audacity to seek affirmative relief from a court of equity, the maxim has its limitations.
Pages 24-25: The consequences of dismissal of their complaint must be scrutinized as they allege that Sean will be harmed if their petition is denied. The grandparents complain that their relationship with Sean, which was nurtured during the five years when he was wrongfully retained by them, their daughter and her second husband, has been interrupted. While the incongruity of this position is glaring, the application will be decided on the merits, as the issue of the welfare of the minor child has been raised. Thus, the grandparents' complaint will not be dismissed on the basis of their unclean hands.
Page 30: Under Segal, the conduct of the Ribeiros qualifies as outrageous under either example. First, like the mother in Segal, Bruna and the Riberos acted in concert to keep Sean in Brazil for the purpose of frustrating David's parental rights. As to the second example, although the Ribeiros did not concoct allegations of sexual abuse, their fabrications that David had abandoned Sean were so outrageous and so extreme as to go beyond all possible bounds of decency.
Page 30: Nor, can there be any question that these contemptible actions caused harm to Sean, who had enjoyed a secure, stable and intimate relationship with his father for the first four years of his life only to have that bond severed, all contact cut off, and his young and impressionable mind filled with complete fabrications and misrepresentations as to why his father was no longer in his life. It is difficult to conceive of a more dramatic example of emotional abuse of a young child.
Page 31 footnote: It is more difficult to accept Silvana's claim in her certification that she and Raimundo are seeking visitation with Sean because "We want Sean . . . to know that we love him, [and] to know that he has not been abandoned" given that she, Bruna and Raimundo were the ones who first introduced the concept of abandonment to Sean through their misrepresentations that he had been abandoned by David. The court also finds no support for Silvana's claim that after Sean learned of the death of his mother she and Raimundo "did everything that we could to help him recover from the loss of his mother." Everything, that is, except reuniting Sean with his surviving parent and telling him the truth as to why he had not seen his father in five years.
Page 32: The bond molded by the Ribeiros with their grandson is tainted by a similar infirmity, as it was achieved as a result of Bruna's wrongful retention of Sean and their continued illicit efforts after her death. To allow the Ribeiros to rely on a bond that was formed through their flagrant contempt of the laws of this state and the orders of this court is contrary to every concept of sound and rational jurisprudence. As Judge Pinto found, to accept the Ribeiros' position would permit them "to benefit from an illicit act" and "signify…that illicit acts entail rights, which, as it is very well known, is inconceivable."
Page 35: It must be again noted that David has not foreclosed visitation with the Ribeiros. After his arrival in the United States, David facilitated their contact with Sean through email and photographs. Instead of accepting David's parameters for contact, the grandparents attempted to communicate with Sean without David's knowledge by setting up a coded email account. Even after discovering that the Ribeiros told Sean not to tell his father about the account, David was still open to visitation.
Page 36: It should also be noted that David did not reject the Ribeiros' request that Sean be allowed to return to Brazil for visitation; he simply took the position that such visitation was premature at the time.
Page 36: Rather than accept David's conditions and begin visitation immediately with their grandson, the Ribeiros chose to initiate this litigation and continue their relentless and quixotic court battles in Brazil in an attempt to overturn the decision that reunited Sean with his father. Given the documented harm that the Ribeiros have caused Sean in the past, David's visitation conditions were eminently reasonable. The Ribeiros penchant for incessant litigation seems to have eclipsed their professed desire to see their grandson. Their persistence in seeking Sean's return through the Brazilian courts, sustains their contempt for this court's authority and bears directly on the sixth factor of the GVS, whether they are bringing this application in good faith.
Pages 36-37: Also of concern, is the behavior of the Ribeiros when they have been allowed contact with Sean. On Christmas Eve 2010, David voluntarily arranged a phone call between Sean and his grandparents and sent them digital photographs of Sean. During the conversation, Silvana Ribeiro repeatedly indicated to Sean that they were "fighting in the courts" to get him back and reassured him that they would be successful. This persistent and determined attempt by the Ribeiros to undermine Sean's relationship with David and inject instability into the child's life is a continuation of the well-documented harm they have caused the child since his arrival in Brazil.
Page 37: Dr. Charles Diament, Ph.D., began treating Sean in January 2010, shortly after his reunification with David. In a report dated June 21, 2010, Dr. Diament found that, although Sean has made a "remarkable" adjustment and has become very attached to his father, "he remains very emotionally fragile and is still trying to adequately integrate his experiences in Brazil with his new life here in America." Dr. Diament expressed "significant concerns" about involving Sean, directly or indirectly, in additional litigation. Although Dr. Diament's report was provided to the Ribeiros and presumably they have read and understand it, they continue their attempts to convince Sean that their litigation in Brazil will result in his return to Brazil. No clear-thinking person can fail to appreciate that this kind of conversation will impair Sean's adjustment and contribute to his distress.
Page 38: As mentioned earlier, Judge Pinto accepted the findings of these psychologists and found that Sean had been harmed by the continuous efforts at parental alienation begun by Bruna and continued by the Ribeiros and Lins e Silva. In ordering Sean's immediate return to the United States, Judge Pinto found that the initial retention of Sean was unlawful and the continued retention, which was supported wholeheartedly by the Ribeiros, was a "new illicit act."
Page 38: The Ribeiros continue to pursue several different actions in the Brazilian courts against David. Currently, they are seeking reversal of the Brazilian Supreme Court's decision to return Sean to the United States in accordance with international law. Lins e Silva also continues to file applications seeking the reversal of the decision and the return of Sean. The continuing litigation combined with the Ribeiros' statements to Sean reasserting their efforts to return him to Brazil, reaffirm the reasonableness of David's position that dismissal of all litigation in Brazil is a non-negotiable condition before any visitation will be permitted.
Pages 38-39: The continuing litigation combined with the Ribeiros' statements to Sean reasserting their efforts to return him to Brazil, reaffirm the reasonableness of David's position that dismissal of all litigation in Brazil is a non-negotiable condition before any visitation will be permitted. While it might be tempting for David to ignore the Brazilian litigation based on the unlikelihood of success, he is aware that if order of the Brazilian Supreme Court is overturned, it would create a safe haven and even an incentive for the wrongful removal and return of Sean to Brazil. Thus, David is compelled to engage Brazilian counsel to oppose the efforts to overturn the decision.
Page 39: The Ribeiros have not established that denying them visitation with Sean would wreak a particular identifiable harm, specific to Sean, to justify interference with David's fundamental due process right to raise his child free from judicial interference and supervision. Conversely, David has established that granting the Ribeiros the type of unconditional visitation they seek will likely allow them to continue their efforts to undermine and destabilize his relationship with his son and further traumatize the child with suggestions that he may again be separated from his father and returned to Brazil. The GVS was never meant to facilitate this type of manipulation and abuse.
Pages 39-40: While the complaint of the grandparents will be dismissed, they continue to hold the keys to the portal of visitation with their grandson. Compliance with the fair and reasonable conditions established by David will allow them to again enjoy the special relationship recognized by the legislature when it enacted the GVS.
Page 43: Counsel Fees. Decision has been reserved on all of David's requests for counsel fees in this matter. Under Rule 5:3-5(c), a complaint filed under the GVS is a claim relating to a family type matter. Thus, counsel fees and costs may be awarded. In determining whether to award counsel fees, the court will consider the factors set forth in Williams v. Williams, 59 N.J. 229 (1971). David's counsel will provide a complete certification of services and may submit proposed findings addressing the Williams factors including: (1) David's financial need; (2) the financial ability of the Ribeiros to pay counsel fees; and (3) David's good faith in defending the action or whether the Ribeiros have acted in bad faith.