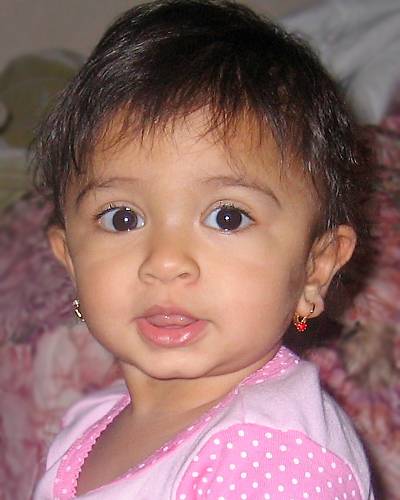 Kali Soleil Athukorala
Date of Birth:
August 25, 2007
Left Behind Parent:
Dhanika Athukorala (Father)
Abducting Parent:
Sandra Clarissa Zemialkowski (Mother)
Abducted From:
Belchertown, MA, USA
Abducted to:
Dominican Republic
Date of Abduction:
13 April 2009
NCMEC Case Number:
NCMC1135175
If you have information on the whereabouts of Kali, her mother, Sandra Clarissa Zemialkowski, or
grandparents Walter R. Zemialkowski and Clara Violeta Zemialkowski Rivera
Contact:
National Center for Missing and Exploited Children 1-800-THE-LOST (1-800-843-5678)
or
Belchertown Police Department (Massachusetts) 1-413-323-6685

Email:
[email protected]

Website:
www.BringKaliHome.net

Facebook:
http://www.facebook.com/dhanikaandkali
Discuss –
BSHF International Abductions Forum: Athukorala
| | | |
| --- | --- | --- |
| | | |
| Sandra Clarissa Zemialkowski | Walter R. Zemialkowski | Clara Violeta Zemialkowski Rivera |
Background
Kali Soleil Athukorala was born on August 25th, 2007 at 1:13 PM in Northampton, Massachusetts, USA. She is a U.S. citizen.
Sandra Clarissa Zemialkowski, deceptively removed Kali from her home on December 21st, 2007. Sandra deceived Kali's father into signing a letter of consent to travel outside the United States on the promise that Kali would be returned to her home in Massachusetts on January 11th, 2008.
In April 2009 Sandra Clarissa Zemialkowski was divested of her rights of custody to Kali Soleil Athukorala after a year long custody trial. Custody of Kali was awarded to Kali's father. The court ordered that Kali be returned to the United States and that Sandra surrender Kail's U.S. and Dominican Republic passports. (see Hampshire County Probate and Family Court Judgment. Page 1 – Page 2
Sandra Clarissa Zemialkowski failed to return Kali to her home and her father, on April 13th, 2009, as ordered by the Court in the final judgment.
Kali was last known to be unlawfully and wrongfully retained in the home of her maternal grandparents, Walter and Clara Violeta Zemialkowski, in the city of Santo Domingo, Dominican Republic.
"Sandra's deception started on December 21, 2007. She claimed that she was going on a family vacation to visit with her parents who were living in the Dominican Republic (both of whom also happen to be citizens of the United States). Sandra wanted to spend christmas with her parents and introduce Kali to Sandra's father who had not met Kali. Sandra deceived me using this story to get me to sign a letter of consent to allow Kali Soleil to travel outside the United States.

In January 2008 Sandra asked to extend Kali's stay in the Dominican Republic to spend her (Sandra's) birthday with her friends and family. I sent a letter, again trusting Sandra at her word, to allow Kali to remain in the Dominican Republic until the end of February 2008. This turned out to be another deception as Kali Soleil was not returned to her home at the end of February 2008.

In June, 2008, Sandra was ordered to appear before the Hampshire County Probate and Family Court in Northampton, Massachusetts for a custody hearing based on a complaint I had filed for Sole Legal and Physical custody of Kali (Sandra appeared and was represented by an Attorney). During the hearing I tried to convince the Judge that letting Sandra take Kali out of the country even for a temporary period would result in Sandra not complying with court orders. In response, Sandra submitted a sworn affidavit to the court stating that she does not want to interfere with my relationship with Kali and that she recognizes the Hampshire County Probate and Family Court as the only court with regards to matters relating to Kali's custody and care.

This turned out to be another deception as in December 2008, Sandra once again began interfering with my relationship with Kali, denying me access to Kali on a scheduled visitation in the Dominican Republic and defying court orders. She stated that I had to hear what she had to say first, before I could visit with Kali.

In April 2009, Sandra stated to the court that she does not recognize the jurisdiction of the Hampshire County Family and Probate Court and would not be returning to the United States, again in contradiction to her sworn affidavit. This argument of jurisdiction seems to be a constant theme with Sandra even though it is very clear by the definition in the Hague Convention that Massachusetts is Kali's home state and habitual residence."