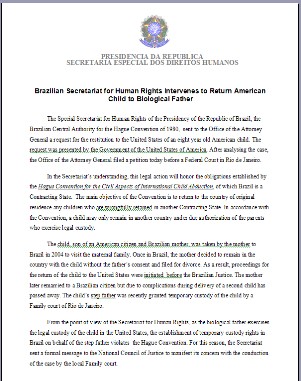 We have received an electronic copy of a letter from The Special Secretariat for Human Rights of the Presidency of the Republic of Brazil.
The last paragraph states:
"From the point of view of the Secretariat for Human Rights, as the biological father exercises the legal custody of the child in the United States, the establishment of temporary custody rights in Brazil on behalf of the step father violates  the Hague Convention. For this reason, the Secretariat sent a formal message to the National Council of Justice to manifest its concern with the conduction of the case by the local Family court."
While that sounds very positive, not being fully knowledgeable with the Brazilian judicial system we can only wonder how long the process will take,  appeals filed, delays granted, more appeals………. You can download the document, it's a MS Word (.doc) file and review it.
If you do not have a recent version of MS Word you can download a free viewer from Microsoft. > Word Viewer 2003. The letter will be converted to a web page.
The letter is posted on the Media & Documents page or just click right Here.
Yes the layout of the blog was changed and it's still being "tweaked." 🙂