By André Petry
with reporting in Rio from Ronaldo França and Silvia Rogar
Veja Magazine

Brazilian mother flees to Rio with the son she had with an American, she remarries, and dies – and the boy? Does he return to his father in the US? Does he stay with his stepfather in Brazil? The case is becoming a diplomatic debacle between the two countries
The walls are painted a light blue, like the water-colored ceiling. The window is wide, and the room is well-lit with everything in its place: the stuffed animals on the bed, the books on the small TV stand, the shoes lined up on the baseboard, the clothes hung in the closet. Only the aquarium doesn't have fish, which died during an electric power outage.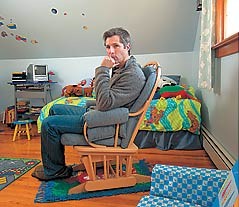 "I want everything to be like it was when he left," says David Goldman, last Wednesday, when he received VEJA in his home in Tinton Falls, in the state of New Jersey, referring to his son Sean, who was taken by his mother four and a half years ago to Brazil. On the same Ash Wednesday, Sean was in Búzios, on the coast of Rio de Janeiro state, where he spent Carnival in a luxurious house on the sea in the company of relatives. In the last four and a half years, father and son have seen each other only once, less than a month ago, and only for a few hours, in the backyard of a residential apartment complex in Rio and under the surveillance of a psychologist.
"Our bond isn't broken," Goldman stated, remembering the meeting. "He's still my little boy." But is he?
The custody dispute for Sean Bianchi Goldman is a story appropriate for a movie. It began with a love story in the glamorous fashion world in Milan and has become a growing diplomatic discomfort between Brazil and the United States. In 1997, American David Goldman lived in Milan working as a model, strutting his stuff at 6'1 and 176 pounds. He met Brazilian woman Bruna Bianchi, beautiful and educated, who was studying fashion. They fell in love and moved to New Jersey. She got pregnant, they married in 1999, and Sean was born on May 25, 2000. On the surface, they lived a happy life.
But something wasn't going well. On June 16, 2004, Goldman brought his wife, child and in-laws to the airport so they could go on vacation in Rio, as they did on occasion. "On the way to the gate, she turned around and did our 'I love you' gesture. I can see her doing it." Bruna never came back. Once in Rio, she called saying their marriage was over and that Goldman would only see Sean again if, among other conditions, he gave her full custody of his son. Goldman remembers: "Her voice was strange. It was metallic, without emotion."
The child's custody fell into a legal entanglement, but another tragic chapter would change everything. In Rio, Bruna remarried lawyer Joao Paulo Lins e Silva, from the clan that has produced medals in law for a century. Last August 22, giving birth to Chiara, her only child with Lins e Silva, Bruna died from complications with the birth. With this, in four years, Sean's life became a dramatic whirlwind: he was taken away from his American father, he lost his Brazilian mother, he gained a half sister and in a surprising move, had his custody given to his stepfather. Fearing that Goldman would take his son back after Bruna's death, Lins e Silva, six days after his wife's death, went to court to ask for the boy's custody, citing "socio-affective paternity." With uncommon agility, the court granted his request on the same day. Goldman landed in Brazil ten days later. He arrived certain that as the biological father, he could take his son home. He discovered that custody had been given to Lins e Silva.
Beyond the dramatic twists and turns, the story has mysteries. One is: why did Bruna make such a radical decision to kidnap her own son from his father? Bruna entered Brazil with authorization from Goldman to stay with the boy until July 18, 2004. After that date, the child's stay in Brazil violated the Hague Convention, which deals with international child abduction by parents. Why did she do such a thing?
"She never complained about anything in our lives," says Goldman. But it's obvious that something wasn't right. Bruna's family, who haven't spoken publicly about the case since it is protected by the secrecy of justice, have insinuated that Goldman is a profiteer. While they were married, Bruna supported the family teaching Italian, and the couple's sex life was a desert. Goldman never asked to see his son and never answered his phone calls. Greedy for money, he received US$150,000 in exchange for the removal of his ex-in-laws names from the first court case. He doesn't have an income or a real job. He has a degenerative disease that inhibits his ability to care for a child.
Goldman says that these accusations range from lies to manipulation. He says that it's a lie that they didn't have a sex life, that he didn't answer his son's phone calls or that he didn't ask to see his son. He affirms that he has been to Brazil eight times with that goal. He confirms that he made a deal for US$150,000 to be able to cover the costs of the legal battle for his son and not to sell his custody.
"With lawyers in two countries, procedural costs and international trips, he has already spent more than US$300,000," says his Brazilian lawyer, Ricardo Zamariola Junior. Goldman doesn't have a steady job or income, but he doesn't live a life of leisure, either. He moonlights as a model and a real estate agent and sustains himself with tourist excursions on a boat off the coast of New Jersey. He charges $600 for six hours. His summer schedule is full. Finally, the disease he is afflicted with, Guillain-Barré Syndrome, kills only 3 – 5 percent of patients. Goldman had a medical crisis that left him in the hospital for weeks, but he recuperated without ever having another episode. To his favor, the fact is that all this could be a motive for a wife to ask for a divorce from her husband, but none of this justifies taking away a father's right to live with his son.
Or does it? Until now, the Brazilian courts have made it clear that Sean is already adapted to his new environment. Using this as a basis for his reasoning, Judge Gerardo Carnevale Ney da Silva signed a decision that gave full custody of the boy to his mother in 2006. When consulted, he said: "What I can say is that the decisions made in the state courts take the child's interests into consideration, not the parents'." After his mother's death, Sean moved in with his maternal grandparents, his half-sister and his stepfather in a luxury apartment building in Jardim Botanico, in the South Zone of the city. He divides his mornings between basketball and ju-jitsu classes. He goes to school in the afternoons at Escola Parque, a school attended by the city's upper middle class children, and he also sees a psychotherapist. The Hague Convention, the backbone of Goldman's arguments, states that a kidnapped child must be returned to his country of origin immediately. But it also states that after a year, one must take into consideration the child's adaptation.
"After so much time, one must consider what is best for the boy," says William Duncan, Deputy Secretary General of the Hague Convention in private international law. Sean seems well adjusted. He easily calls Lins e Silva "Dad," and lives a charmed life with privileges far superior to the majority Brazilian children. But his adaptation only had time to take place due to the tradition delay of the Brazilian courts—and not because his father didn't want him back. Goldman went to the American courts. He won, but he didn't get his son back. Would it be fair to leave him without a son? When the case reached the Superior Court of Justice in Brazil, two ministers, Ari Pargendler and Carlos Alberto Direito, touched on the main point: the boy's stay in Brazil is still child abduction.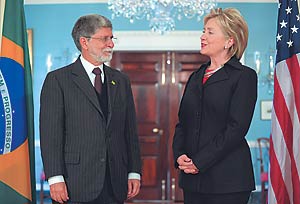 "What are we doing — admitting the consolidation of the situation, in fact, that time impedes his return?" Direito wondered. "We're admitting that any person can cheat the Hague Convention, taking a child from his country of origin and staying here under a slow court process." The two lost the vote.
In the struggle for his son, Goldman moved American congressmen and senators to action and has managed to mobilize the government and American public opinion in favor of his cause. In March, when President Lula is in Washington to visit President Barack Obama, there will be a protest in front of the White House. Last week, in a meeting with Secretary of State Hillary Clinton, Foreign Minister Celso Amorim was asked to speed up the process of the case. Amorim responded that the Brazilian government would do its best, but that the case remained in the courts. In sum: diplomacy was attempted, but it used the same routine that takes years to produce results. This would be acceptable if dealing with a trade agreement or a new treaty, but it's cruelty when it deals with the life of a child.
Copyright © 2009 Veja Magazine, Brazil